EU Directives and CE Mark: What You Need to Know for Your Electronic Products
---
The European electronics industry continues to grow, largely boosted by accelerating demand for smart home and office devices, gaming and entertainment technology. While readily available and accessible, electronics can pose potential safety risks to consumers, so it is easy to understand why they are heavily regulated in many countries. The European Union is no different, with various EU Directives setting standards that electronics products must meet before they can be sold in Europe.
In this article we discuss these requirements and how electronics manufacturers can ensure their products meet market standards.
Firstly, what are EU Directives?
The European Union states that a directive is a "legislative act that sets out a goal that all EU countries must achieve. However, it is up to the individual countries to devise their own laws on how to reach these goals".
There are EU directives for many different categories including electronics, chemical products, medical products, edible products, construction, personal protective equipment, machinery and automobiles. Each directive lays out safety requirements, sector-specific standards and standards for international trade to ensure a standardized approach to product regulation across the EU.
In the case of electrical and electronic products, there are four main EU Directives that apply:
These directives outline obligations placed on manufacturers, importers and distributors. All parties must ensure compliance with the applicable directives before putting products on the market in the EU.
What is the CE Mark and is it required for electronic products?
Most products covered by the EU Directives require CE marking if they are intended for sale in the EU. It's important to note that it's forbidden to apply the CE marking to products that do not require it or for which EU specifications do not exist. In the case of electronic products entering the EU market, CE marking is required.
The CE mark is a declaration that a product meets all legal requirements relating to safety, health and environmental protection. If a product is governed by multiple directives, the manufacturer must ensure that it complies with requirements under all directives before the mark is applied to the product.
This CE mark does not indicate that the product has been manufactured in the EU, as it must be applied to applicable products regardless of where it is has been manufactured.
Before affixing the CE mark to a product, manufacturers must:
When applied to a product, the CE mark must: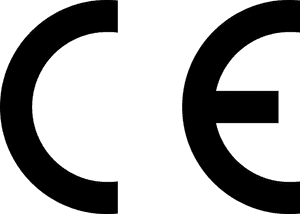 Be visible, legible and indelible

Consist of the letters "CE", with both letters being the same height and no smaller than 5mm

Remain in proportion if enlarged or reduced

Be affixed to the packaging or to accompanying documents if it cannot be affixed to the product itself
How QIMA can help
Enforcement bodies continuously monitor conformity with EU Directives and CE marking legislation to ensure that products are safe for consumers to use. If your product is found to be non-compliant, you may be given the chance to rectify the situation. However, if you fail to comply the product will need to be taken off the market and you may be liable for a fine or imprisonment. This obviously has the potential for huge costs and repercussions for your business.
QIMA's team of product compliance experts can review your documentation and CE mark application, as well as carry out any necessary lab testing such as chemical testing, mechanical testing and electrical testing for your electronic products to ensure compliance with the EU Directives and meet CE mark requirements. We can also provide on-site inspections to maintain product quality long-term, and audits to verify the standards of your suppliers. Contact us to learn more.
For more information on the CE mark, download our Quick Guide "CE Compliance for Products Sold in EU Countries" here!
---